Tree House Building Workshops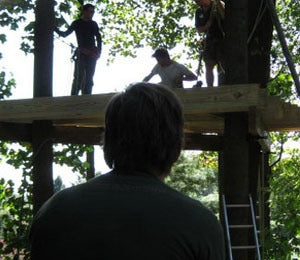 We are primarily a tree house building company. However, we realize that most tree houses will be built as family projects or by local contractors. We fully support that and want to help people learn how to build tree houses properly to avoid excess damage to trees or practices that are not safe. Join us for the next workshop if you want to learn the best practices in tree house building today.
Upcoming Workshops:
May 16-17, 2015 – Near West Chester, Pennsylvania

Cost is $480 per person. Includes workshop, full meals, & free treehouse t-shirt.
We teach treehouse design & construction techniques, tree biology, proper hardware installation, zip lines & bridges, and other topics per request (to request, make a note on the Registration Form).
We are still deciding on where and what to build for this workshop.  Details coming by end of Winter.  You may register or hold the date by emailing Sandy at office@treetopbuilders.net, and she will forward you the Registration Forms.
September TBD, 2015 – West Chester, Pennsylvania

Dates & Location have not been determined.  Please keep checking back for updates!
Course Information
For additional course information be sure to check out these pages:
Typical Workshop Classes | Construction Workshop Philosophy | How to Build Treehouses Hands On